To Current International Students
Please take care of your health based on correct information and act responsibly considering the risk of infection.
Basic Preventive Measures
Wash your hands well regularly and disinfect them.
Wear a face mask.
Ventilate the rooms you use.
Dine with fewer people for shorter times. Do not share food. Wear a mask when not eating.
Avoid areas with the "Three Cs":
a. Closed spaces with poor ventilation;
b. Crowded places with many people nearby; and,
c. Close-contact settings such as close-range conversations.
Monitor your condition daily, and rest at home if you feel unwell.
Install the COVID-19 contact confirmation application "COCOA" (Ministry of Health, Labour and Welfare).
COVID-19 Contact Confirmation App (COCOA)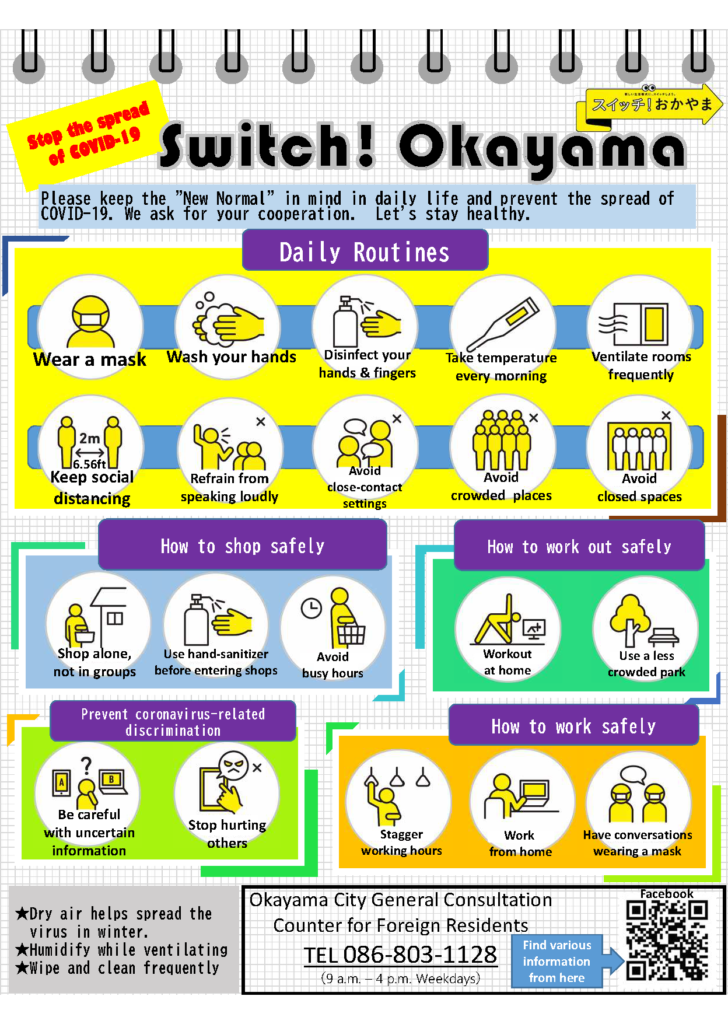 Five Situations
According to the Ministry of Health, Labour and Welfare, there are five situation which present heightened risk of infection:
Parties where alcoholic beverages are consumed
Dining with large numbers of people or for long times
Conversing while not wearing face masks
Communal living in narrow spaces
Frequent changes in location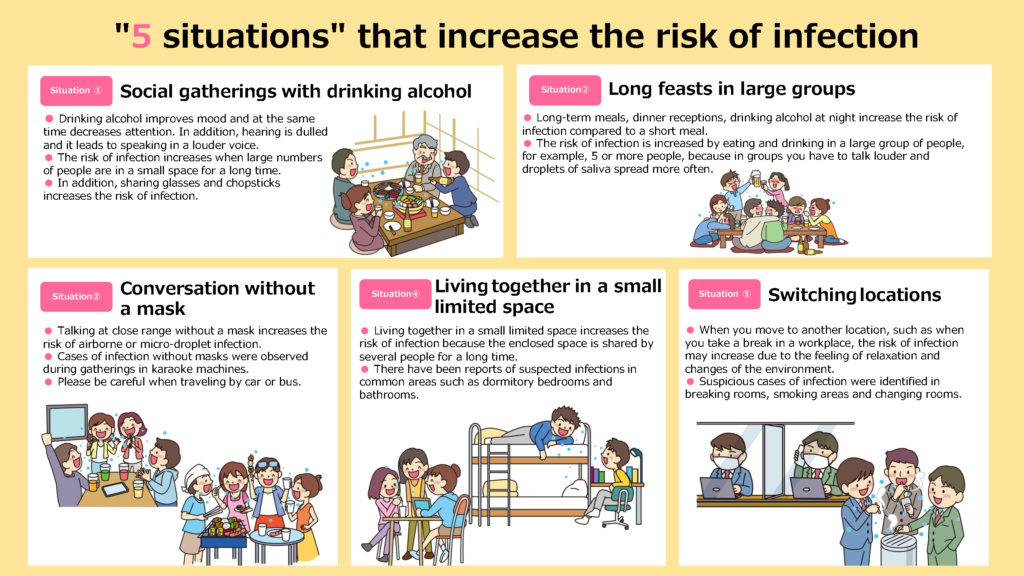 Suspected Infection
If you think you may have been infected
Should you have symptoms such as a fever or cough, do not go out. Consult by telephone with your regular doctor or a diagnostic consultation center.
Okayama City COVID-19 Diagnosis Consultation Center
(open 24 hours a day)
Tel: 086-803-1360
JNTO Japan Visitor Hotline
(in English, Chinese and Korean, available 24 hours a day)
Tel: 050-3816-2787
In the event of any of the following, consult with a doctor or consultation center immediately.
Difficulty breathing (Dyspnea)
Severe fatigue
High fever
You have underlying medical conditions which are more likely to lead to severe manifestations of COVID-19 and you develop relatively mild cold symptoms such as fever or cough
*Examples of underlying medical conditions are such things as:
・Diabetes
・Cardiac insufficiency
・Respiratory disease (COPD)
・People undergoing dialysis
・People using immunosuppressive, anti-cancer, or similar medications
After consulting with the diagnostic center, if you are suspected of having a novel coronavirus infection, you will be referred to a specialist treating novel coronavirus infections on an outpatient basis. When seeking diagnosis, be sure to call ahead to make an appointment and wear a face mask.
If you begin to feel unwell on campus
Consult with the Health Service Center.
Tsushima Campus

Tel: 086-251-7217
E-mail: hokekan1●cc.okayama-u.ac.jp
*Please change ● to @.

Shikata Campus
Tel: 086-235-7487
E-mail: hokekan2●md.okayama-u.ac.jp
*Please change ● to @.
If you have been infected
Promptly report your diagnosis to your faculty or graduate school.
Residents of international dormitories should report their diagnosis to their dormitory manager.
Follow the directives of Okayama City Healthcare Center regarding steps to prevent spread of the disease.
References and Related Links (External Websites)
Re-entry
The Japanese government is strengthening border control measures. At present, countries and regions where re-entry is prohibited are not designated, but depending on the prevalence of the mutant strain in the future, measures to prevent re-entry may be urgently changed.
Therefore, we will recommend you to visit the following site to receive the latest information.
Please check the Ministry of Foreign Affairs website.
*Currently NO English site available, thus, for those who has language barrier, please use the translation site or get support from someone who understands Japanese language.
Currently, when re-entering Japan, re-entrants from designated countries and regions need to quarantine, which will cause a large amount of costs, all of which are borne by you.
*You may not use public transportation (Railways, buses, taxis, aircraft (domestic routes), passenger ships, etc.) after entering Japan before quarantine period is over.
Regarding Japanese Government (Monbukagakusho: MEXT) Scholarship students who is planning temporally going back home country, you might have a chance for entry ban at the time of returning to Japan or infected with coronavirus while you were traveling.
Those who cannot return to Japan due to the measures such as Japan's refusal of entry and cannot sign MEXT sheet by the deadline of each month will not be able to receive scholarship for that month. (No sign No money policy).
MEXT scholarship is allocated as living expenses in Japan, thus, there is no exceptional for any cases.
*If you are unable to sign due to the designated period of quarantine immediately after re-entry, please contact International Student Division (dde7046●adm.okayama-u.ac.jp *Change ● to @).

Based on the above, please decide carefully whether to return to your home country or travel abroad.
There would be frequent changes on information related to COVID-19, thus, be sure to keep up to date with the latest information.

Procedures for re-entry into Japan – Ministry of Health, Labour and Welfare
*For English, select English for Language Switching.