What is CAMPUS Asia?
'CAMPUS Asia' has been running as an innovative educational exchange and cooperation system among universities in Japan, China and Korea since 2011. CAMPUS Asia is financially supported by the Japanese government. It aims to develop exceptional future leaders through student exchanges and high level education, while creating a common academic system such as mutual recognition by participating universities of academic credits, grade record management, and degree awards.
The Japan Society for the Promotion of Science
CAMPUS Asia of Okayama University
Okayama University was selected for the first (pilot program) and second phase of the program. Okayama University implemented the program for 10 years through a consortium with Jilin University and Sungkyunkwan University.
Pilot program(2011-2016): "Core Human Resources Development: For the Achievement of Common Good(Bonum Commune) and Re-evaluation of Classical Culture in East Asia"
With the aim of forming a common set of values for Asia and fostering the next generation of leaders, the program aims to establish an East Asian-style global liberal arts education system with "common good" as its keyword, accumulate collaborative experience with partner universities, build solidarity and mutual trust, establish a credit transfer and grading system, conclude and implement a double degree agreement in social and cultural sciences, medicine, dentistry, and pharmacy, and develop a multilingual and multilingual education system. We have also established a credit transfer system, a grading system, a double degree agreement in social and cultural sciences, medicine, dentistry and pharmacy, a multilingual and a multicultural education system. The pilot program of CAMPUS Asia has contributed to the high mobility of nearly 600 students.
Second Phase Program(FY2016-2020):"Asiancrats: A Prime Professional Human Resource Development Program for the East Asian Higher Education Area"
Based on the exchange programs and experiential training programs developed in the pilot project, the Second Phase Program aimed to develop core professionals (Asiancrats) for the next generation, focusing on deepening their expertise, providing practical education with an awareness of career development, and improving their language skills. The program achieved high mobility with a total of 244 students dispatched (actual travel: 231, online: 13) and 268 students received (actual travel: 239, online: 29).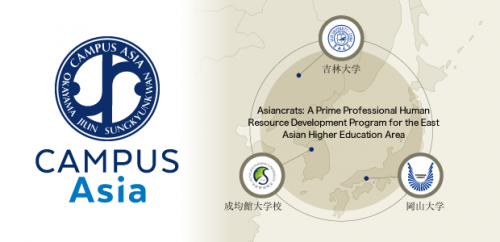 Publication
Pamphlet
Okayama University CAMPUS Asia program
report
Pilot Program
Second Phase Program
Student Anthology (Japanese only)
Movie
Program (Japanese)
Academic Seminar(English)
Japan x SDGs Virtual Global Circuit Academic Seminar
In order to reinvigorate international exchange affected by the COVID-19 pandemic, Okayama University sponsored a lecture series (January-March 2021) related to the UN Sustainable Development Goals (SDGs) and Japanese society and culture. Videos of some of the lectures are now available.