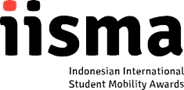 Overview
The "Indonesian International Student Mobility Awards" (IISMA) program is a Government of Indonesia scholarship scheme to fund Indonesian students on mobility program at top universities overseas. Undergraduate students can spend up to one semester at an overseas university partner: To studying, experiencing host country culture and doing practical assignments to hone their skills.
The scheme is centrally managed by the Directorate General of Higher Education, Kemdikbud (Ministry of Education and Culture or MoEC), and is open for undergraduate students from all Indonesian higher education institutions.
The objective of this scheme is to facilitate Indonesian students to gain knowledge and skills, exchange ideas and culture, and build network with their peers, academics, and the international community overseas. For Indonesian universities, the scheme is expected to strengthen and develop academic partnerships with universities partners overseas.
The students are nominated by their home university and selected by the Indonesian government.
Okayama University was chosen as one of the host universities.
Through this program, Okayama University encourages students to learn and understand Japanese culture, customs and society. Classes are offered in English and student may take Okayama University Japanese language courses. Okayama University provides foreign students an ideal setting while studying abroad; one that nurtures education and learning while at the same time offers students an environment for freedom, growth and experience.
By enrolling in the program, students are not only given the opportunity to study at one of the largest universities in Japan, but they are also given the opportunity for personal experience and growth. Students live and interact amongst the Japanese people, and they will experience first-hand life and living in Japan.
All IISMA students are accommodated at the Okayama University Shared House. This dorm is conveniently located just five minutes from the Tsushima Campus of Okayama University (main campus). One IISMA student shares a living unit with a Japanese student and two other international students. The University library, computer laboratories, shops, restaurants and various forms of entertainment are all easily accessible.
Contact
Indonesian Government


Indonesian International Student Mobility Directorate of Learning and Student Affairs Directorate General of Higher Education (DIKTI)
Ministry of Education and Culture, Republic of Indonesia

Contact Person: Elvira F. Tanjung, Ph.D.
Jl. Raya Jend. Sudirman Gedung D, Lt. 18 Central Jakarta
E-mail: subpokja-merdekaglobal●kemdikbud.go.id
*Please change ● to @.
Okayama University


International Student Division, International Affairs Department

2-1-1, Tsushimanaka, Okayama 700-8530, Japan
Tel: +81-(0)86-251-8547
E-mail: epok-inbound1●adm.okayama-u.ac.jp 
*Please change ● to @.