The International Affairs Department holds a "Campus Life Orientation" for new international students enrolling in April and October to explain things like immigration-related matters, safety and crime prevention, health management, student life, and daily life.
*All new students* are required to attend this orientation. This includes those who have entered Okayama University from other universities and students who received their undergraduate degree from Okayama University and are beginning their graduate studies.
To prevent the spread of COVID-19, the orientation in 2022 will be conducted online.
STEPS
Watch the video by referring to the handout.
Your OkaDai ID and password is required to watch the video. It will be issued after the admission procedure. Please check with your faculty for details.

Submit the checklist online.
All students are required to submit this form online. Submission of this form is required to complete the orientation.
Checklist

Come to the International Affairs Department to pick up orientation materials.
In addition to the handout above, you will receive many other useful materials for your life in Okayama at the orientation. Please come and pick up the materials at your earliest convenience.
Procedures at City Office
International Affairs Department distributes a set of documents for Okayama City Office procedures (registration of address, subscribe to the National Health Insurance system, etc.). All new international students should ensure that they come to our office as soon as they arrive at Okayama University.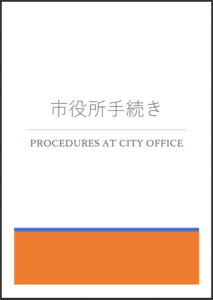 Coronavirus (COVID-19) Vaccinations
Persons registered as residents in Japan are eligible to receive coronavirus vacciations. Those who wish to be vaccinated should apply for issuance of a vaccination voucher.
Please note that the number of vaccinations will vary depending on the vaccination status in your country.
Those who have been vaccinated in their own country or in other municipalities
Please prepare the vaccination certificate and apply for it.
Check!

For the third dose, Okayama City would send you vaccination voucher six months after the second dose based on your application. You can be vaccinated as soon as you receive the voucher.
Those who have NOT been vaccinated in their own country or in other municipalities
There are no specific documents to prepare. Please apply below. As soon as you receive the vaccination voucher, you can receive the vaccination.
How to Apply
Japanese only
Call the "Okayama Coronavirus Vaccination Call Center".
Phone:0120-780-910
Reception Hours:8:30 a.m. to 5:30 p.m., Monday to Saturday
Available in Japanese, English, Chinese, Korean, Vietnamese, Spanish, and Portuguese.


Check!

After the application is received, the vaccination voucher will be sent to you within one week to 10 days.
You may be contacted by Okayama City if there is something they wish to confirm.